Inclusivity and accessibility
Adopting an inclusive approach means putting the needs of your audience at the heart of everything you do.
The key to effective communications is
understanding
Every organisation has a unique, diverse audience with varying needs. Understanding their needs, expectations and frustrations is a vital first step to ensuring an organisation's communications, products and services work for the audience it serves.
The time to act is now. Those who do, will reap the benefits of prioritising people. Those who don't will be left behind.
Quick wins to prioritise inclusivity:
Ensure your website and apps adhere to WCAG 2.1.
Make information easily available in alternative accessible formats (such as large print, or Braille).
Invest in user research to truly understand who your customers are and their needs.
Distribute communications on the right channel for every user – innovate and personalise your marketing mix.
Put robust processes in place for user testing – including accessibility and assistive technology testing.
How we can help
We offer a range of services to ensure everything you deliver is truly inclusive, accessible and right for the audience you serve. If you'd like to understand how to adopt a user-focussed, inclusive approach, drop us a line. Find out if your websites and digital services meet accessibility requirements and comply with national and international legislations.
Download our
insight reports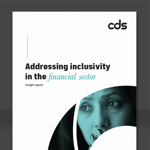 Addressing inclusivity in the financial sector
By adopting an inclusive approach, financial institutions can make a real impact on people's lives.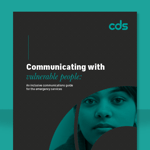 Communicating with vulnerable people
A guide for the emergency services. How to define, develop and deploy an inclusive communications strategy.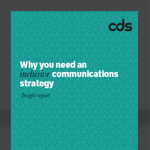 Why you need an inclusive communications strategy
There has never been a more significant time to embrace inclusivity.