Inclusive Communications Report
Are vulnerable people let down by
ineffective communications and a
lack of easily accessible formats?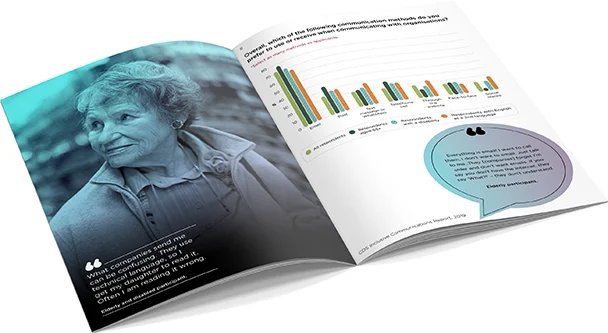 Inclusivity? A must have, or a nice to have?
We commissioned a piece of research through YouGov to examine how people feel about the communications they receive from organisations.
Our 2019 Inclusive Communications Report investigates how some of the most vulnerable people in society engage with organisations.
We query whether organisations are doing enough to ensure the communications they produce are fit for purpose and meet the needs of their users.
Inclusive communications consultancy
Let the agency that's already making a positive difference help you do the right thing.
We're able to highlight what you're doing well, and what could be better in both your printed documents and digital experiences.
If you're interested in finding out about how to improve your communications for all your customers, get in touch and see how we can help.
Download the


Inclusive Communications Report
Key findings from the report

Reasons to care about
Inclusivity & Accessibility
Your customers care
1 in 2 people are belief-driven buyers. They choose, switch, avoid or boycott a brand based on its stand on societal issues.
Make a statement
Accessible services can transform the lives of disabled people. Make sure everyone who needs your service can use it.
It's the law
The Equality Act 2010 makes website accessibility a legal requirement in the United Kingdom and litigation is on the rise.
You could be missing out on sales
82% of customers with access needs would spend more if websites were more accessible.
Differentiate from competitors
70% of websites in the United Kingdom (and 4 in 10 UK council websites) are inaccessible.
Future proof your business
Delivering the best-possible accessible experience should be seen as an investment for the future.
Deliver a service that works
For all users…regardless of language, age or ability. Design for the elderly and disabled and you design for everyone.
Getting it right first time
Accessibility ensures compliance and reduces costs. Show your commitment to inclusivity and build brand reputation
Deliver a service that works
71% of disabled customers with access needs will click away from a website that they find difficult to use.